Directions:
In this section, you are asked to write an essay based on the following chart. In your writing, you should
(1)Interpret the chart and
(2)Give your comments.
You should write at least 150 words.
Write your essay on ANSWER SHEET 2. (15 points)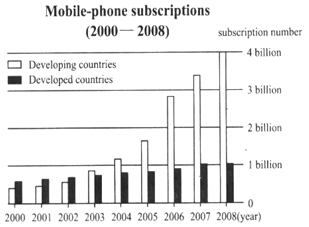 参考范文
Para 2
…Secondly, developing countries have been enjoying strong economic growth in recent years. As a result, people in most developing countries are richer and richer, especially in China, so they can afford to buy such necessities, including mobile phones, as the prices continue to drop greatly in the past years.