Write an essay on the following chart.In your writing,you should
(1)interpret the chart,and
(2)give your comment.
You should write about 150 words on the ANSWER SHEET.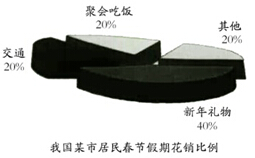 Para 2
Obviously, there are three reasons down to the most expense used for buying presents. To begin with, Chinese people are changing their lifestyle and more likely to enjoy a lifestyle of communication during holidays, which may add more flavor to their routine life. What's more, in many people's eyes, giving others gifts is a necessary way for emotional expression. In addition, there is no denying that the major factor responsible for the phenomenon is that urban people possess more money available for gifts thanks to the growth of urban economy.